I have so many beer-related holiday gift ideas this year, I had to make my annual gift guide a two parter! Just check out all this awesome stuff! (All of which also happens to be on Beer Guy PDX's own Christmas wish list--you know, the one that's scribbled on the back of a beer mat and pinned up on the fridge. Yes, THAT wish list!)
Classy growler transport.
The Leather Bike Growler Carrier
Let's start out with a little piece of equipment that every bicycle ridin', craft beer swillin' Portlander MUST have: a leather bike growler carrier! Come on! You know you want one!

Everybody knows that next to craft beer, the denizens of Portland, OR love their bicycles more than anything in the world. A product that melds those two things together? Yes! You'll be the object of green-eyed envy among all your hip, bikie buds!
The Leather Bike Growler Carrier isn't exactly cheap at $80.00, but it's handcrafted in Missoula, MT without the use of machines. What a beautiful piece of craftsmanship. Something you can use for years and pass down to your craft beer swillin' grandchildren!
Forged Beer Bottle Opener with Copper Rivet
Heavy metal.
Imagine you're at a bottle share, surrounded by dozens of beautiful craft beers--and lovely craft beer babes--when suddenly there's a blood curdling scream...
"Oh, my gawd, there's no bottle opener! NO - BOTTLE - OPENER!"
As the entire party breaks down into a pathetic, sobbing, quivering mass of thirsty schlubs, you reach into the rear pocket of your flannel-lined jeans and produce a Forged Beer Bottle Opener with Copper Rivet. Ta-da! Day saved! And you go home with the craft beer babe(s) of your choice!
Okay, that's never gonna happen, but it would still be freakin' awesome to own this anvil hammered piece of steel and copper. At $36.00, it's a tad more pricey than the freebies that jangle around in most folk's pockets, but just think of the oohs and aahs it'll produce when you whip it out and get those tops off!
Brewvana Portland Brewery Tours Gift Certificate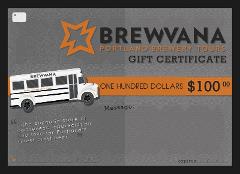 Brewvana Portland Brewery Tours is without a doubt the best craft brewery tour experience in the best beer city on Planet Earth! Yes, I'm incredibly biased, but I know what I'm talking about. Brewvana has a fleet of buses, driven by friendly, informative and--dare I say--extremely dedicated tour guides who know A LOT about the Portland craft beer scene. If you have a friend or family member who would enjoy a fun time out, experiencing the best beer that Stumptown has to offer, you should seriously consider the gift that keeps on giving: a Brewvana gift certificate.
Tours are offered seven days a week - bus tours, walking tours AND private tours. Gift certificates can be purchased in just about anyone's price range. Heck, if you're lucky, your gift recipient might just bring YOU along!
Certificates are available online at the Brewvana website:
http://www.experiencebrewvana.com/merchandise/
Oregon Breweries by Brian Yaeger
"I don't always drink beer, but when I'm not drinking it, I'm reading about it."
Hey, in my book, that's what a truly "interesting man" would say. Do you know that hip, young Millennials are more likely to read a book that crabby, moldy, old people over 40? It's true! No, it's not, I made that up, but it could be true! Jeesh, I'm a Baby Boomer--the "I'll wait until it comes out on video" generation. Whatever happened to reading is FUNdamental?

Well, if you like Oregon beer, or you would like to KNOW all about Oregon beer, and you're not afraid to crack the spine of a real, honest to gosh book, do I have a holiday gift idea for you!
Oregon Breweries by Brian Yaeger has 416 pages chock-full of all kinds of useful information about 190 breweries and taprooms. It's like an Audubon Society Field Guide for BEER! Imagine being able to spot the elusive Hair of the Dog, or get up close and personal with the breathtaking Deschutes! All you need is this amazing book...and maybe a pith helmet.
Oregon Breweries can be purchased on Amazon:
http://www.amazon.com/gp/product/0811712117
Magnetic Bear Bottle Opener
Grrrrrr!
Do you have a man cave? Or a lady den? You know, someplace you go to quietly reflect on life's foibles while you imbibe a few cold craft brewskis at the end of a long, crappy day? If you answered yes, then how could you not want to decorate your special space with the AWESOME Magnetic Bear Bottle Opener?
Now, before you spout off about how you would "never buy that gawd-awful, stupid thing", I have to tell you up front...I own one.
Yes, it's butt-fugly, but there's something so satisfying about cramming a bottle into that bear's mouth and cranking off that bottle cap! Take that, Smokey!
The Magnetic Bear Bottle Opener is available at Perpetual Kid for $24.99:
http://www.perpetualkid.com/magnetic-bear-bottle-opener.aspx
Well, that's if for part 2! Will there be a Holiday Gift Guide Part 3? Maybe! As I stated in the previous post, the images here were all swiped off the websites of the noted sellers of this cool swag. If anyone wants me to unlink their pics, just say the word!